Fire Alarm Systems
Specialists in the Design, Installation, Commissioning and Maintenance of professional Fire Alarm Systems.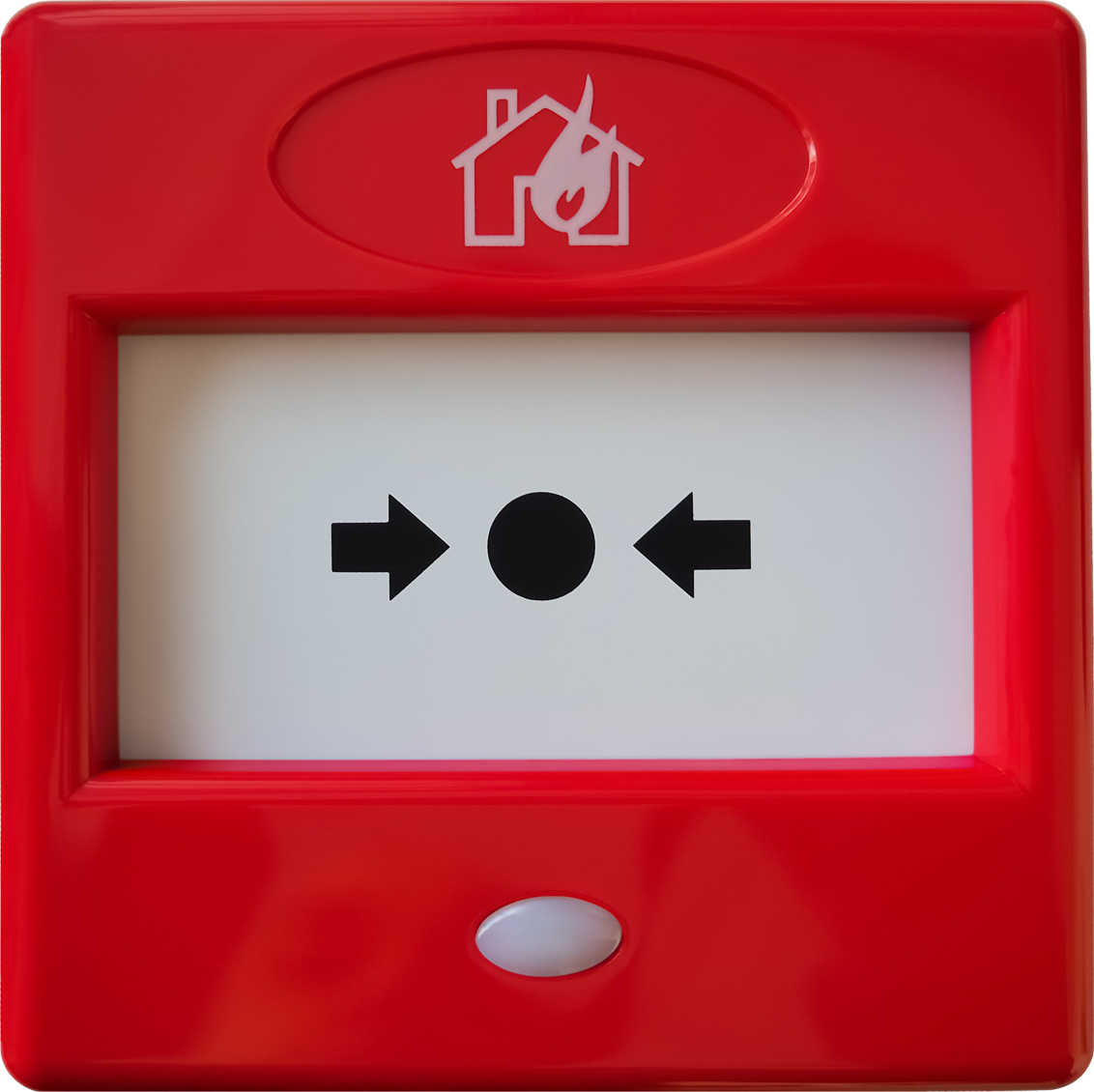 "Absolutely superb!" – Esther James

"Very professional." – Danielle Robinson

"Extremely professional." – Ceri Makan
Fire Alarms – sales, service and maintenance
Whatever type of business premises you operate, there will be a need for Fire Alarms.
Not only do having fitting Fire Alarms in your place of work show that you take fire safety seriously, but it is also a legal obligation for the majority of businesses here in the UK. Failure to install and maintain these vital fire safety systems can lead to hefty fines and in some (extreme) cases, prison time.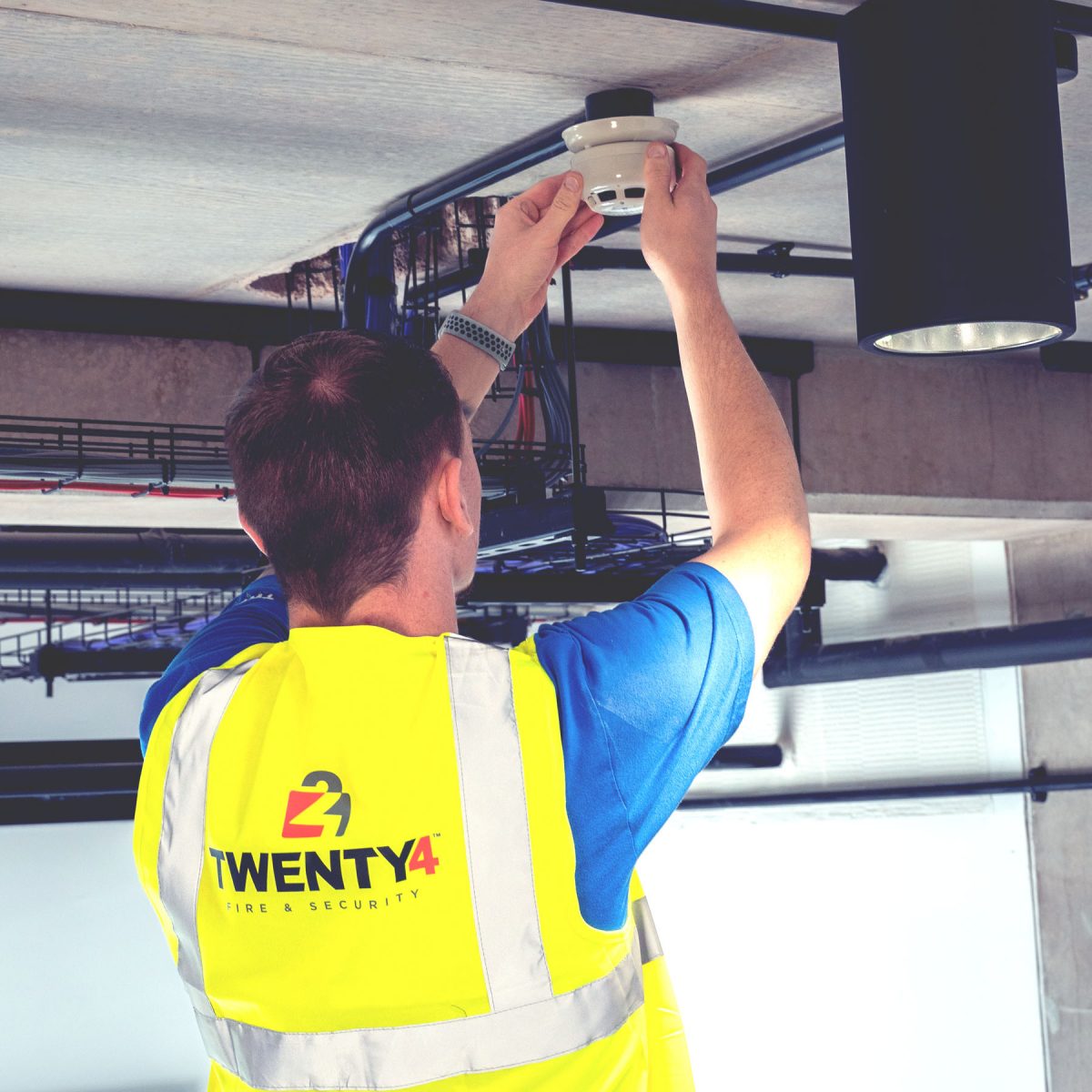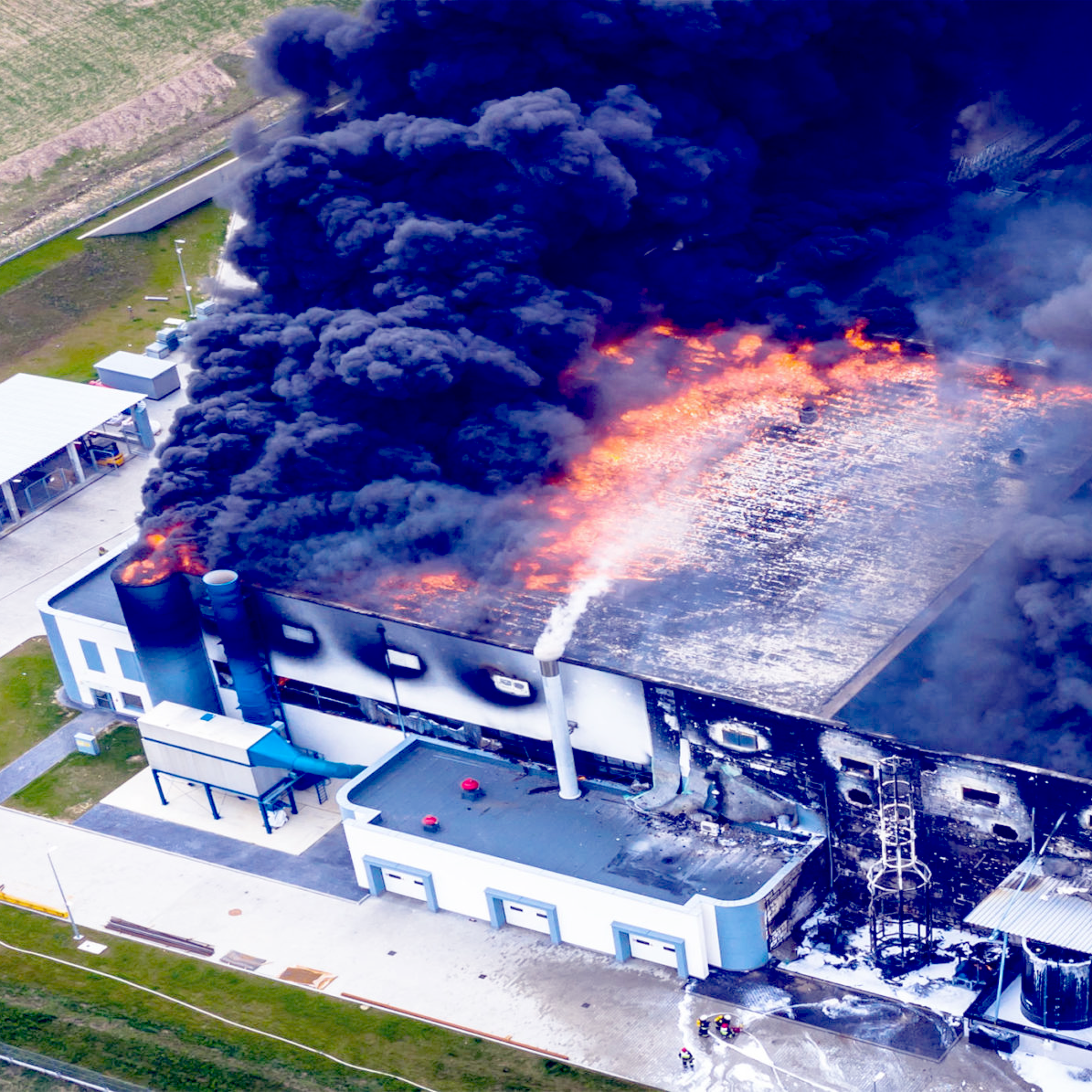 The law surrounding fire alarms
UK Government states that all businesses must have a fire detection and warning system of some shape or form. However, the types and number of detectors you require will be dependent on the type of building you occupy and the work carried out in it. This will be made clear in your Fire Risk Assessment.
But, your responsibilities as a business owner go much further than simply purchasing an alarm. All Fire Alarms must be installed, tested and maintained to a high standard. Staff members will also need to be trained on how these systems operate, with fire drills needed to be actioned and recorded regularly.
To comply with BS5839-Part 1, a fire safety code of practice, alarm systems must be maintained by a professional every six months without fail. This is also something most Insurers will require when creating policies for properties used for business purposes.
Our Fire Alarms Systems
Here at Twenty4, we offer high-tech Fire Alarm solutions, allowing the businesses we work with to limit and manage their fire risks in an affordable, efficient manner. Developed using smart technology, our alarm systems can be connected to smartphones via a dedicated app, meaning you and the emergency services will be notified immediately if the alarm is sounded.
If you are looking to explore your fire and security alarm options, be sure to contact the Twenty4 team today.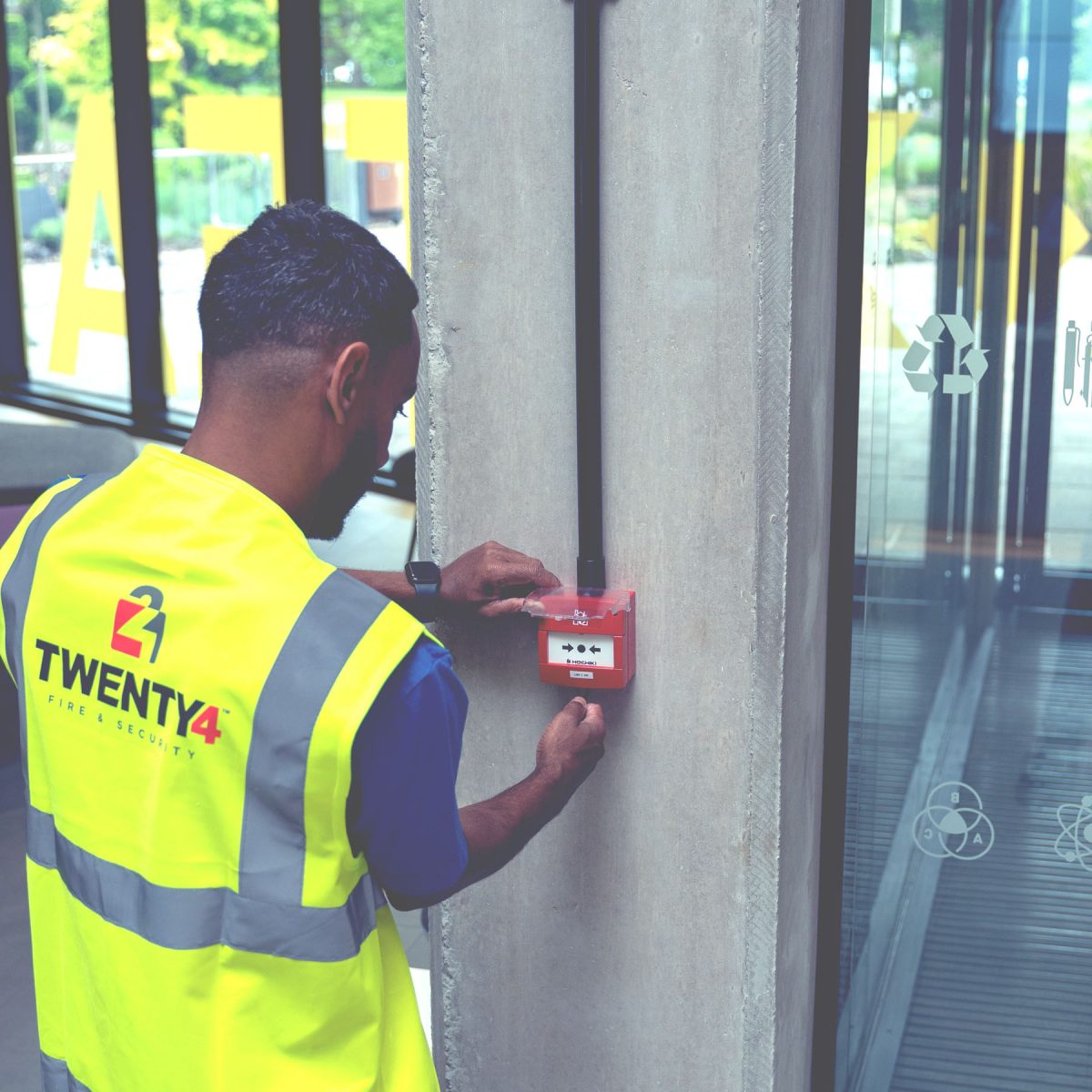 We work with every brand and type of alarm system
At Twenty4 we have vast experience with all types and brands and systems. This means you're in the right place if you are looking for either a

new fire alarm

system or need to

repair

your existing system.
We can supply, install and manage simple cost effective solutions for small low risk properties.
Flexible systems from medium to large are another area of expertise for the Twenty4 Fire and Security team.
Wirless alarms are modern, adaptable systems that businesses are slowly moving over to. Contact us today to explore the many wireless alarm services that we supply across the UK.
We can offer simple cost effective solutions for small to medium size premises, including 2-wire alarm systems.
We can also supply and manage Grade A or Grade D fire detection systems for the home, rentals and HMO's.
Worried about your Fire safety?
1
EXCELLENT CUSTOMER FEEDBACK
With years of experience in the fire alarm industry, we have worked with all types of fire alarm systems. With this vast experience we are able to select great quality, reliable and cost effective fire alarm products. Combine this with excellent customer service and professional installation and that is the reason we have thousands of happy customers. Check out our 250 5 star Google reviews.

2
QUALIFIED,
HIGHLY EXPERIENCED
ENGINEERS
Our team is made up of qualified and experienced experts. All our staff are security screened to the highest level and we have immense experience in all types of fire alarm systems. From small conventional fire alarms to large addressable systems on large scale projects, we take an all-encompassing approach to alarm services.

3
Fire alarm system

 design

specialists
With hundreds of fire detection products on the market, it can be a minefield choosing the right system for your premises. Our fire detection and warning system designers are highly experienced in all types of properties and have a wealth of knowledge of all the systems on the market, new and old. You can be sure that our specialists will design a cost effective, reliable fire alarm system to suit your needs and your budget.
4
Installation of your an alarm system will vary from site to site. From a simple wireless alarm system suited to a small shop or office to a large networked system covering many buildings across a number of sites, the options are endless. Our engineers are both qualified and experienced to work on any type of property and system and are renowned for installing alarms quickly and efficiently.
5
If you have a fire alarm system, it must be serviced regularly. This is to ensure your system remains effective at all times.
The minimum requirement for fire alarm servicing will be a 50% service every 6 months, and this is most common for smaller premises and low risk properties.
High risk premises will require more regular servicing. A service visit should be carried out every 3 months with a minimum of 25% test of all detection devices.
From time to time a fault, or false alarm may occur. When/if this does occur our engineers are on hand 24/7 to provide you with expert assistance within 4 hours of your call.
6
Leasing
your

 f

ire alarm

system

Although we offer extremely cost effective solutions for fire safety systems, we know it's not going to be top of your priorities for your budget. Because of this, we offer leasing packages for all our systems to ensure you not only get the system you need but at an affordable monthly cost.
7
Specialists in all Fire safety services
Keeping your property safe from fire is not only essential for reducing the risk to life, but you are obligated to do so. Failing to meet your fire safety responsibilities can result in huge fines and a prison sentence. We are here to take that risk away from you by offering a wide range of fire safety services, from Fire risk assessments, fire extinguishers emergency lighting, disabled refuge system and of course fire detection and warning systems.
Frequently asked questions
Checkout the latest Fire safety news brought to you by Twenty4
The landscape of short-term property rentals in the UK,
The UK started to phase out fluorescent lamps from
As of October 1st, a significant fire safety regulation