"Absolutely superb!" – Esther James

"Very professional." – Danielle Robinson

"Extremely professional." – Ceri Makan
For professional advice or further information, call us today on: 02921252424
Fire Risk Assessment
As a company, you have a long list of fire safety responsibilities to adhere to. One of which is ensuring your premises is equipped with the right Fire Extinguishers.
What Fire Extinguishers do I need?
According to the law, all businesses require a minimum of two Class A Fire Extinguishers on each story of their building. These are the most commonly required extinguishers and can be used on fires caused by flammable solids such as wood, paper, and fabric. However, your exact Fire Extinguisher needs will be determined by the findings of your annual Fire Risk Assessment.
Depending on the type of premises your business occupies, its equipment and the type of work conducted in it, you may also require CO2 Fire Extinguishers, Dry Powder Fire Extinguishers, Wet Chemical Fire Extinguishers and many others.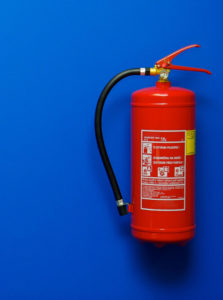 Fire Extinguisher maintenance
As well as making sure your business is equipped with extinguishers, you also need to have them maintained, being checked by professionals to ensure they are always in working order. This is another legal obligation, with Fire Extinguishers needed to be serviced regularly in accordance with BS 5306-3:2009.
Request a free Fire Safety Audit
If you are in need of extinguishers for your place of work, make use of our free Fire Safety Audits. As part of the audit we check all aspects of your business, providing you with a detailed report of what is needed to get you 'fire safe'.
To book your free audit or to learn more about our Fire Extinguisher service, call our team today on 029 2125 2424.
TRUSTED BY THOUSANDS TO CARRY OUT HIGH QUALITY WORK.