"Absolutely superb!" – Esther James

"Extremely professional." – Ceri Makan

"Very professional." – Danielle Robinson
For professional advice or further information, call us today on: 02921252424
Fire Door Inspection
Like any type of fire safety system, your fire doors need to be checked regularly to ensure they have not become damaged or faulty. Periodic inspections are therefore required at least every 6 months, safeguarding the equipment, occupants of the building as well as your business in general.
This is especially important for new buildings and buildings that experience a lot of traffic.
While this may not seem like a huge priority, making sure your fire doors are regularly inspected and adequate for use is a legal obligation. Article 17 of the Fire Safety Order makes it a legal requirement, meaning business with fire resisting doors and escape doors will need to conduct regular checks and record findings.
Those that fail to adhere to these laws can be prosecuted by authorities and in extreme cases, have their buildings closed down.
This is why making regular Fire Door Inspections part of your fire safety plan is essential, ensuring you are operating within the perimeters of the law and keeping your premises as safe as possible.
Contact us today for more details on our fire safety services and solutions.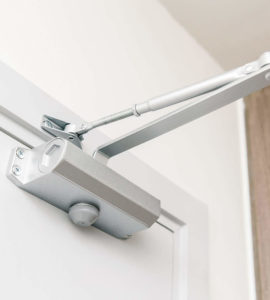 TRUSTED BY THOUSANDS TO CARRY OUT HIGH QUALITY WORK.
Here are a few good reasons why people trust us for their fire and security needs.