Fire door inspection
Approved

fire door certification specialists.

We're experts in the installation, maintenance, repair and certification of fire resisting doors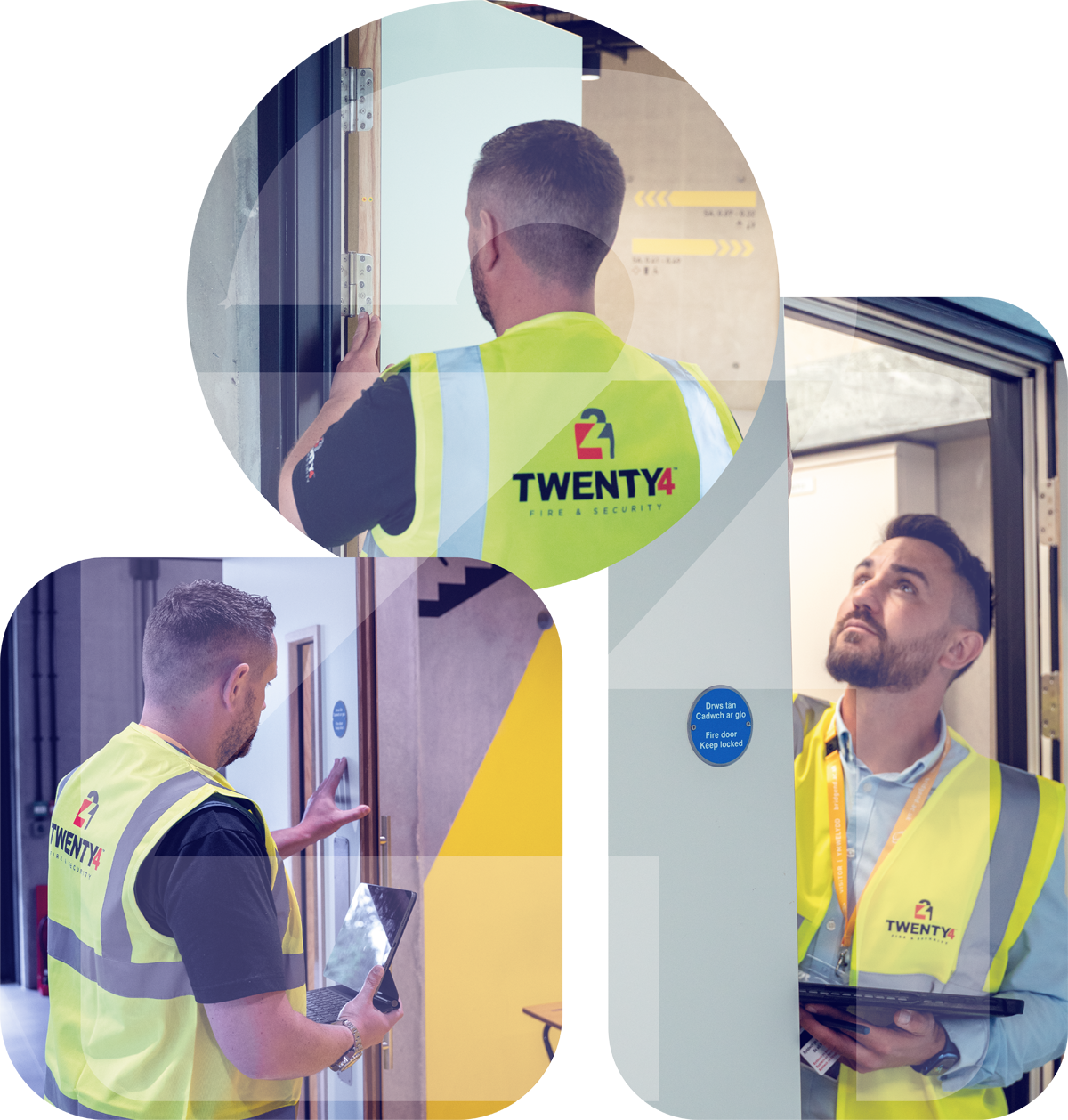 "Absolutely superb!" – Esther James

"Extremely professional." – Ceri Makan

"Very professional." – Danielle Robinson
Fire door inspection company
Like any type of fire safety system, your fire doors need to be checked regularly to ensure they have not become damaged or faulty in any way. Periodic inspections are therefore required at least every 6 months, safeguarding the equipment, occupants of the building as well as your business in general.
This is especially important for new buildings and buildings that experience a lot of traffic.
While this may not seem like a huge priority, making sure your fire doors are regularly inspected and adequate for use is a legal obligation. Article 17 of the Fire Safety Order makes it a legal requirement, meaning businesses with fire resisting doors and escape doors will need to conduct regular checks and record findings.
Those that fail to adhere to these laws can be prosecuted by authorities and in extreme cases, have their buildings closed down.
This is why making regular Fire Door Inspections part of your fire safety plan is essential, ensuring you are operating within the perimeters of the law and keeping your premises as safe as possible.
Contact us today for more details on our fire safety services and solutions.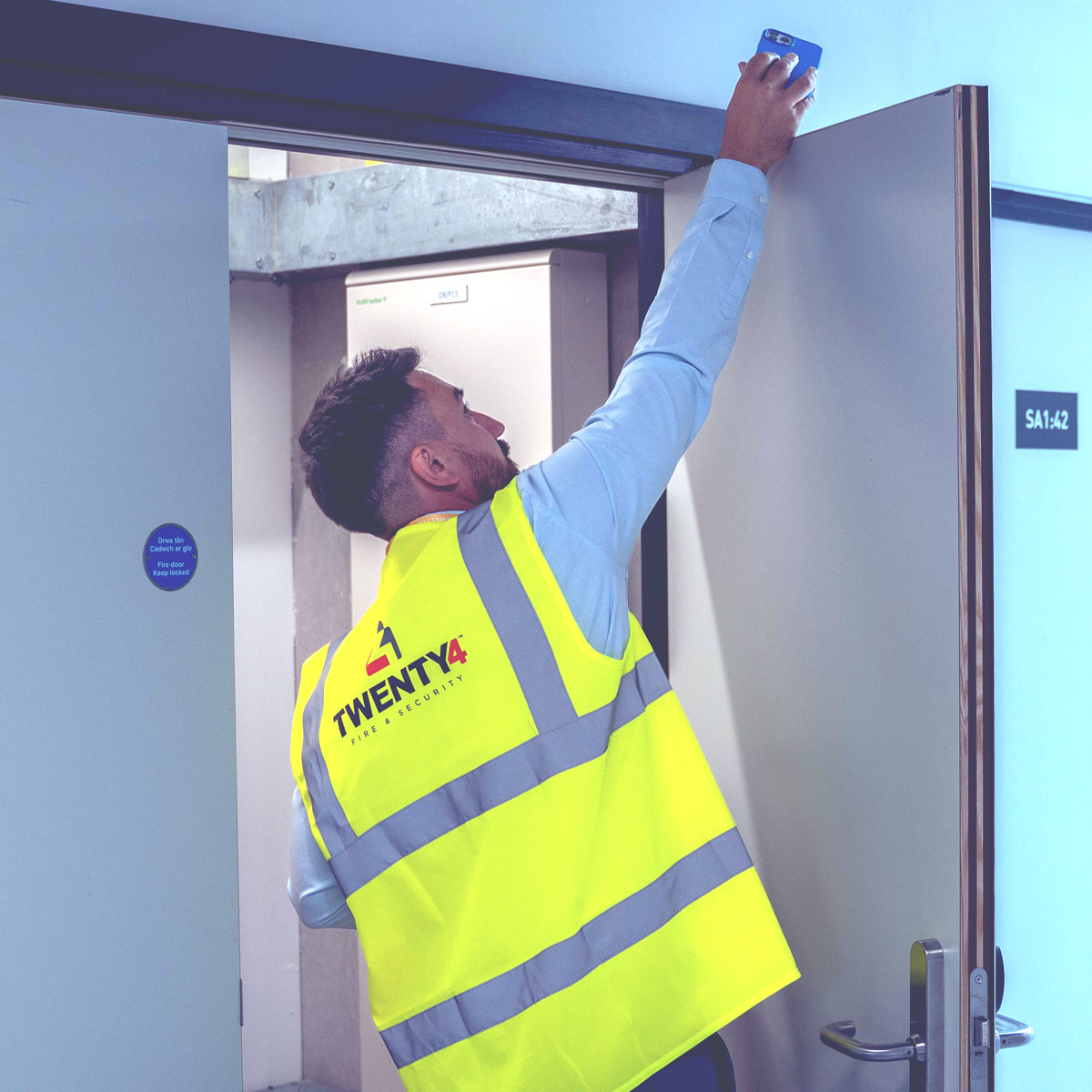 Poorly fitted fire doors KILL!
We see it day in day out. Fire doors that have been either poorly installed or have not been maintained. A fire resisting door's main purpose is to contain a fire and stop the spread of fire, protecting occupants from deadly smoke and fire. A fire resisting door is made up of a number of products including:
Fire resisting door
3x fire rated hinges
Intumescent cold smoke and fire seals,
Fire rated handles and furnishings
Overhead positive self closing device
Fire rated door surround.
All of these items, if fitted properly, work together to make up a Fire resisting doors set.
Fire door inspection check list 
Here is a basic 5 step fire door check you can do yourself. This will help you identify any basic failures with your fire doors.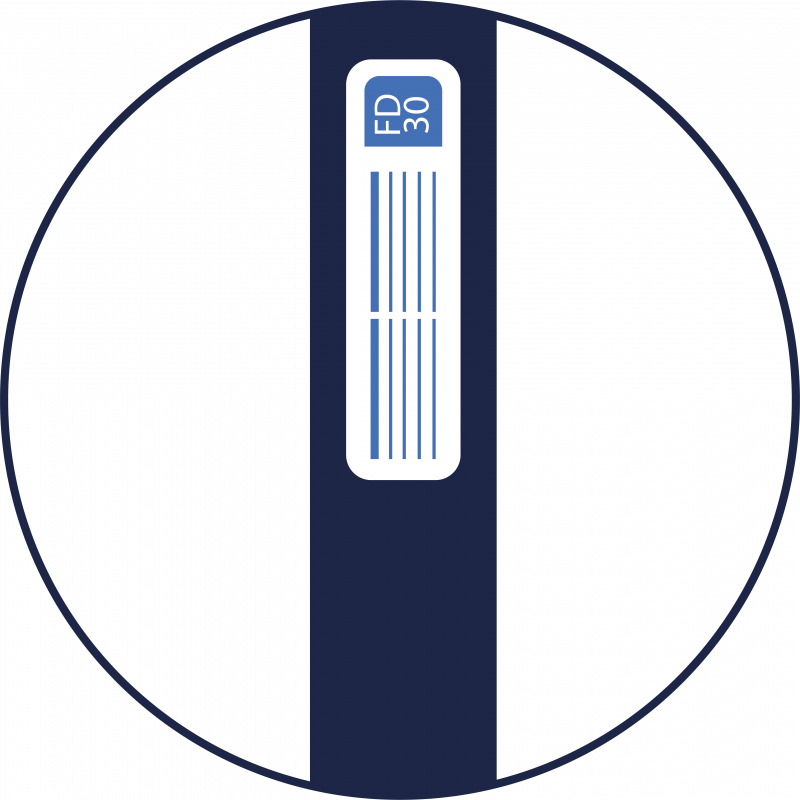 Certification
The door should be marked with a label or plug that identifies the fire rating of the door.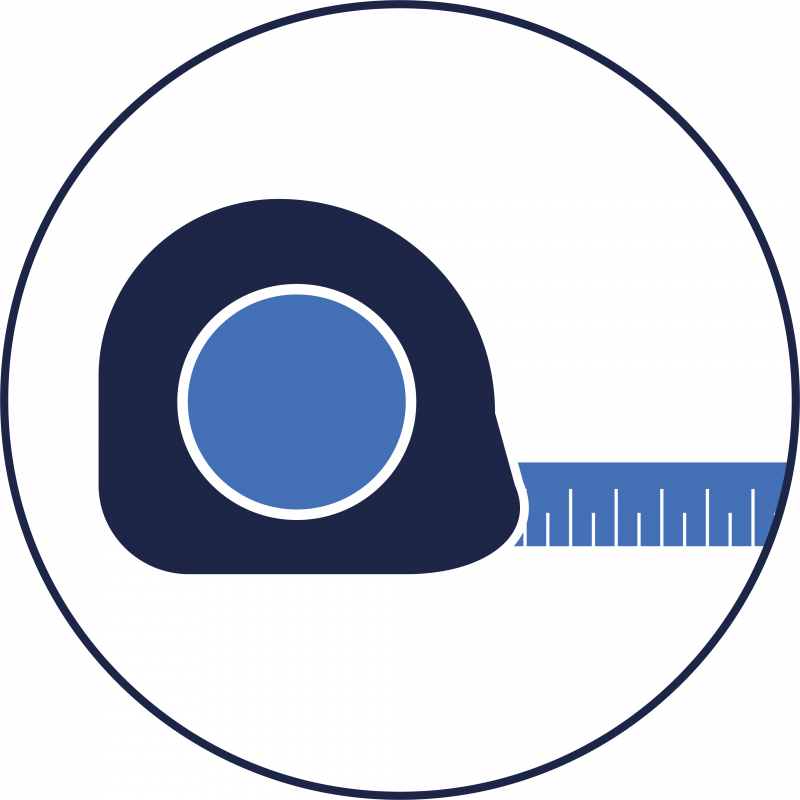 Gaps
The gaps around the sides and top of the door should not exceed 3mm.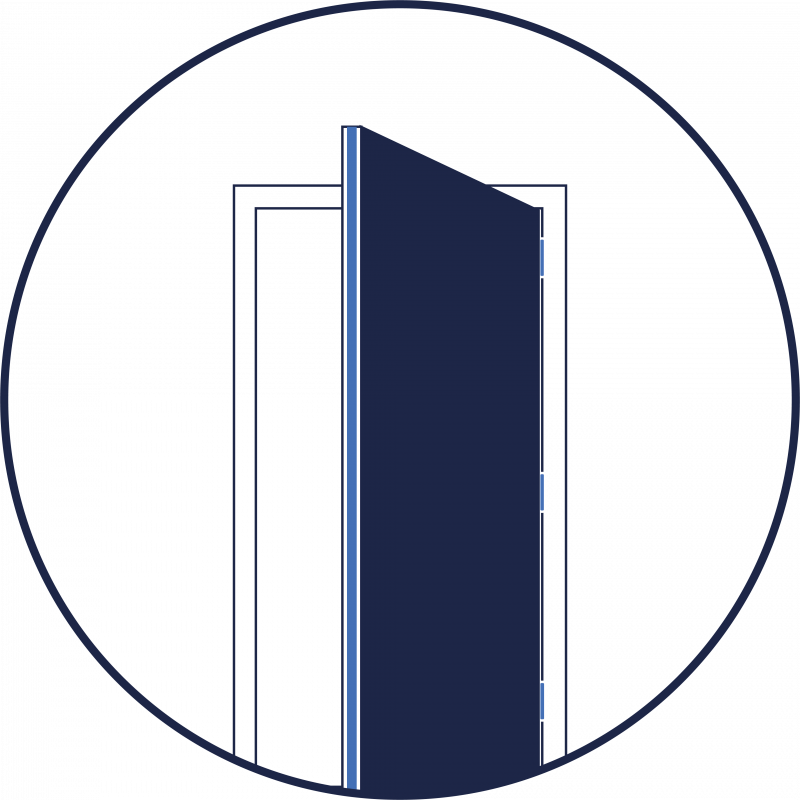 Seals
Intumescent/cold smoke seals should be fitted around the top and sides of the doors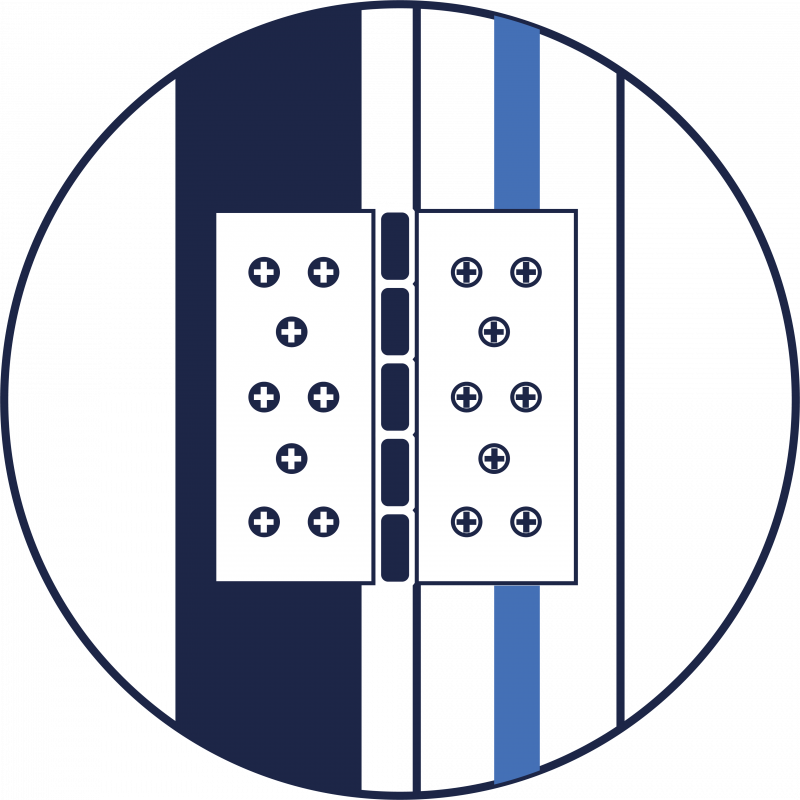 Hinges
3x fire rated hinges should be fitted with no missing or broken screws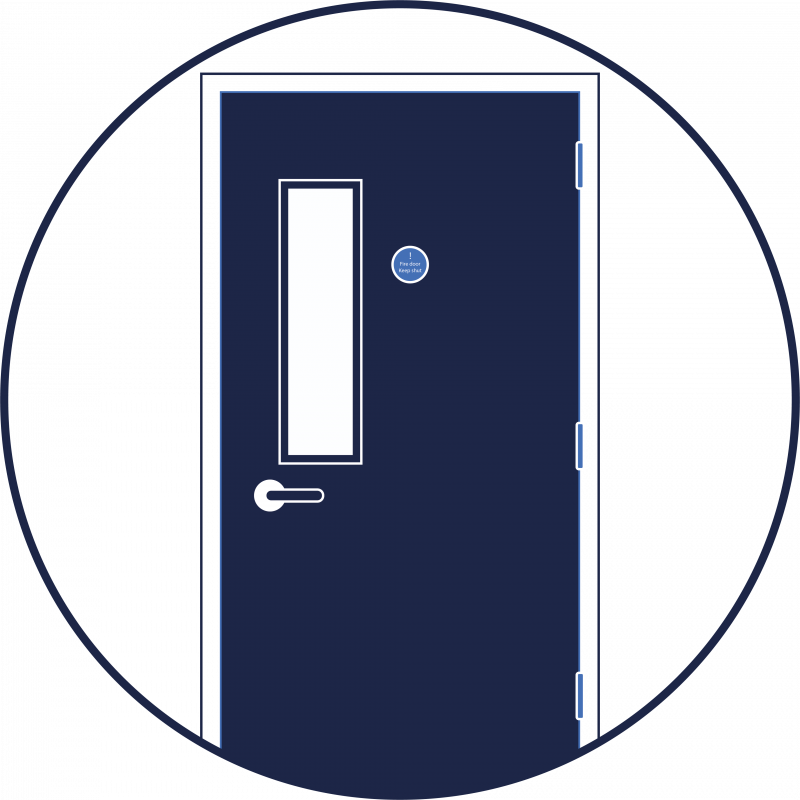 Closes
The door should close fully into its frame independently without dragging on the floor or catching on the frame.
Worried about your Fire safety obligations?
1
EXCELLENT CUSTOMER FEEDBACK
Twenty4 comes highly recommended for fire door inspection and certification. We have helped thousands of businesses in south wales and the west with Fire door Inspection, Certification, Installation and Repair. Our clients are so happy with the services we provide, we boast over 250 five star reviews on Google!

2
QUALIFIED,
HIGHLY EXPERIENCED
Our team is made up of highly qualified experts in fire safety system and compliance. Our fire door inspectors are fully qualified, experienced specialists. We help numerous businesses and property owners with a simple and efficient service, thus taking the hassle away from your fire safety responsibilities.


4
FIRE DOOR REPAIR
We have Fire door specialist engineers in-house, allowing us to provide you with a highly efficient and competitive service. If during your inspection we find some issues, you will be given a full report as well as a competitive quote for repair or installation. This keeps the whole process of staying compliant easy.
5
Passive fire protection is an extremely important life safety system. Our specialist passive fire protection team cover all aspects of physical fire protection. From fire resisting doors, fire stopping, fire rated suspended ceilings, fire breaks, and fire curtains. Using an experienced team will ensure you get the right advice.
6
Spread the cost with SMARTPLAN 
Worried about the cost of your fire safety obligations? We have developed the SmarPlan. This is a simple service package that allows you to bundle all your services together and pay one small monthly fee. You can include your fire door inspections, fire alarm servicing, emergency lighting, fire extinguishers and many, many more into this plan.
7
Specialists in all Fire safety  systems
Although fire door inspections are a popular service provided by our firm, it is just one of the many fire safety, security and compliance services we offer to our customers. When connecting with our team, we can also discuss our fire alarm systems, extinguishers, CCTV cameras, intruder alarms, intercom systems, electric gates, electric barriers and the many other services.
Frequently asked questions
Checkout the latest Fire safety news brought to you by Twenty4
The landscape of short-term property rentals in the UK,
The UK started to phase out fluorescent lamps from
As of October 1st, a significant fire safety regulation

"Absolutely superb!" – Esther James

"Very professional." – Danielle Robinson

"Extremely professional." – Ceri Makan