Project Details
We were recently contacted by a client that was looking to move into a new premises as their business had outgrown their current site.
We were asked to attend and carry out a site survey to identify what the building required for all things fire and safety. We sent a qualified Surveyor to attend the site and conduct a review, giving the client all the details they needed to make an informed decision.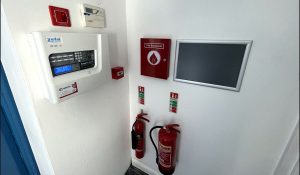 Our Solution
Our Surveyor, Alex, attended the site and carried out a full site survey for the client. We identified that the building required new emergency lighting installed, a new fire alarm system as well as some fire extinguishers! We managed to provide a survey and quotes within 48 hours and complete the whole install within 14 days! Another very happy customer who can now move into their new premises with peace of mind!