Project Details
We were recently contacted by a customer in Usk who was experiencing issues with their fire alarms. The customer got in touch with our team via our website's Live Chat feature, with our team responding immediately to resolve the issue in a timely fashion.
Due to the nature of the business, being a Public House, reinstating a fully working system was imperative, ensuring the company and its customers felt safe and at ease.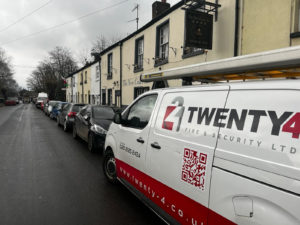 Our Solution
From an initial conversation with the customer, it became apparent that there was an alarm system fault that needed the expertise of an engineer to resolve.
We sent Max, one of our lead Engineers, to the property who investigated the issue. After some preliminary checks, Max found that the alarm panel was beeping with a fault message. Max studied and reset the panel, but the fault continued.
He then looked into the sounders and found an issue with the cabling. Following this, he inspected and corrected the cabling, resulting in the fault code being corrected.
It was just 3 hours from the time the customer got in touch until the fault was fixed, proving just how helpful our team can be in an emergency!